I had another post planned for today, but I couldn't let this fangirling chance pass me by!
Every so often the stars align and one lucky spot on Earth accumulates (almost) all that is beautiful and just in the world!
This came in the form of the NZ premier of The World's End.
I've already been excited about this science fiction comedy starring Martin Freeman and Simon Pegg.
The film follows a group of friends reattempting an epic pub crawl during an alien invasion, and what's not to love about that.
Little did I know that the premier of the move in New Zealand (a shocker right there!) would bring out almost all the yumminess a fangirl could ever wish for.
Don't believe me?
Here we go:
Firstly, looking ever so dapper in a suit is the lovely Richard Armitage, bushy beard and all!
Maybe a post one day regarding Richard Armitage and creative uses for that tie?
Suggestions and pervy ideas appreciated 😉
Next up someone who also even in the film, but apparently caused havoc on the carpet.
Here's Benedict Cumberbatch sporting his Sherlock do:
The ridiculously funny Simon Pegg:
Apparently yesterday was Martin Freeman's last day shooting The Hobbit and he was unable to attend due to prior commitments, which is a bit of a disappointment.
I also haven't unearthed any news on whether Aidan Turner attended the event.
Anyway, the thing that never fails to amaze with British actors that six degrees of separation seem to be suspended where they are concerned.
It's more like 2 degrees at best 😉
By the way, Peter Jackson posted a pic of Sherlock Benedict and Watson Martin reuniting on the set of The Hobbit.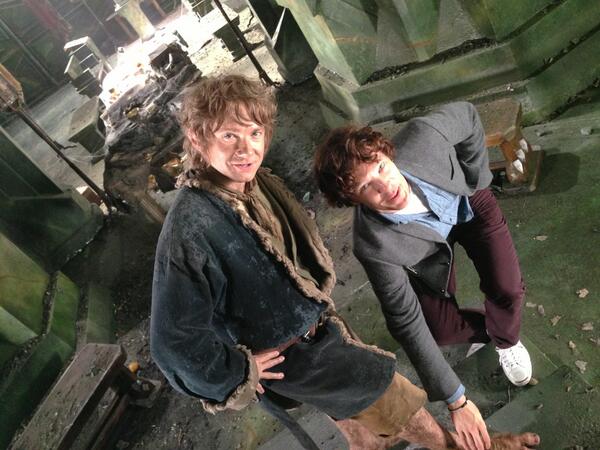 As sad as I am that this  journey is over, these two need to pack up and get back to Blighty to finish up series 3 of Sherlock.
Anyway, after such a display of hotness and awesomeness I think we all need a stiff drink!
Here's the trailer for The World's End.